Cincinnati's CityBeat 
05.08.2011 
Japps is a polished neighborhood bar that features classic cocktails of the 1700s through the 1950s, innovative new craft cocktails featuring fresh homemade ingredients, premium coffee beverages, and a wide selection of bottled craft beers. No blaring televisions, no ear-splitting Top 40 music, no jello shots. Just the finest drinks at affordable prices in a relaxed setting.
A Line Magazine
Since Cincinnati celebrity and rockstar mixologist Molly Wellmann announced her next career venture—opening a sister bar to Over-the-Rhine favorite Neon's—the community has been all a buzz in anticipation. 
Japp's Since 1879, located at 1134 Main Street in Over-the-Rhine, is just footsteps away from Neon's, but oh-so-different. Molly's fan following and passion for creative and easy-to-drink libations, not to mention the unique atmosphere, make Japp's an instant hit and a welcome addition to OTR. 
Stepping into the bar is a little like stepping back in time. Originally a wig shop, Japp's has kept the charming details of the original structure intact including the signage, fireplace and tin ceiling. Paying appropriate homage to their roots,
The fabric canopies [above the banquette seating] evoke the materials used in the wig-making process, and the tilted mirrors give patrons a birds-eye view of your bald spot!
according to Japp's Facebook page. 
The atmosphere isn't out-of-date though; modern touches like new hardwood floors and a giant espresso machine remind visitors of its newness. This "old-meets-new" look pairs seamlessly with Molly's mixology style. Borrowing recipes from as far back as the 1700s, Molly mixes in her own flavor to create what is truly a unique cocktail. If you've never sipped on a Molly Wellmann original, you're seriously missing out. Every cocktail is made with extreme care and lots of love, which results in a very tasty and sip-worthy drink. 
In fact, Japp's boasts over 300 different liquors and all of their syrups are handmade. Even their coffee is made carefully, taking 18 hours to brew in a contraption that is straight out of Victor Frankenstein's lab. 
The most refreshing drink on the diverse menu has to be the Summer Breeze, a concoction of vodka, elderflower-vanilla syrup, fresh grapefruit juice and soda. The drink is perfect for a hot summer evening and is reminiscent of old-school cream soda. For gin drinkers, the Noggin Cleanser—an A-Line favorite—is a must. And if you're up for sipping on something a little more adventurous, try the Monkey Gland. Combining gin, fresh orange juice, a bit of absinthe and real grenadine, the Monkey Gland is surprisingly refreshing. The combination of the licorice-y absinthe and the fresh orange juice is complex, but very tasty! For an after-dinner dessert cocktail, try the Grand Affogato, which is basically an alcoholic espresso ice-cream float. Yum. 
Head to Japp's if you are looking to spend a romantic and intimate evening with someone near and dear, or if you want to get chatty with your girlfriends. This is the perfect place to get drinks with someone you actually want to talk to.

MetroMix Cincinnati 04.08.2012

Step into Japp's for a quick break from real time. Neighborhood favorite bartenders serve craft cocktails in an atmosphere that is a fun mix of vintage glamour and contemporary excitement. The elaborate drink list covers everything you could want: craft cocktails, wines, champagnes, and all sorts of beers, not to mention any liquor you could think of and bartenders who know how to mix them up. 
365 Things To Do in Cincinnati 08.18.2011
It's Day 7 (Year 2) of "365 Things to do in Cincinnati" and today we're featuring our visit to Japp's.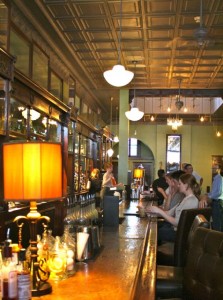 Japp's is a new downtown bar but, as the "Since 1879″ part of the name implies, this new bar has adopted the building's century-old name.  Japp's was originally a hat and wig shop years ago.  Over the years the spot has changed hands a few times (there used to be another bar in this same spot ,also called Japp's – go figure).  But I'm going to go out on a limb and say that this version of Japp's will be around for quite a while… thanks to this girl….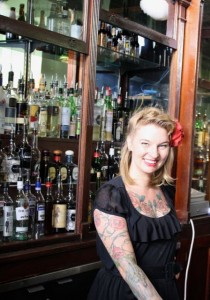 Molly Wellmann
That's part owner and ball of sunshine – Molly Wellmann.  Molly is one of the nicest people you'll ever want to meet…. the kind of person that doesn't know a stranger.  She brings her personal style and flair to Japp's, mixing up craft cocktails like no one else can.  She has a true passion for "old school" cocktails and she has an innate ability to guess what you'd like to have – even if you have no idea yourself!  I told her to surprise me, that I'd drink anything.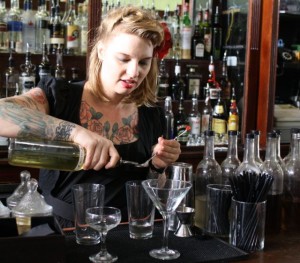 So she got to work in creating my drink.  Molly made me a Gimlet, a drink with gin and Molly's housemade lime cordial.  The drink came in a lovely martini glass with a slice of lime on the rim.  And although I am not a gin drinker ordinarily, this drink was perfect for me.  It had a very light lime flavor, a perfect compliment to the gin.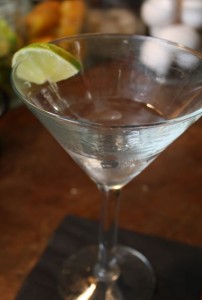 And while I could go on and on about Molly, I probably should mention some things about Japp's right?  I really can't put it any better than they have over on their website… "classic cocktails of the 1700′s through the 1950′s, innovative new craft cocktails featuring fresh homemade ingredients, premium coffee beverages, and a wide selection of bottled craft beers. No blaring televisions, no ear-splitting Top 40 music, no jello shots. Just the finest drinks at affordable prices in a relaxed setting."  That truly is Japp's in a nut shell!
Japp's is right on Main Street in Over the Rhine, one of our city's prettiest places.  The architecture in this area is simply stunning so be sure to arrive before dark if you can – just to take in some of the buildings.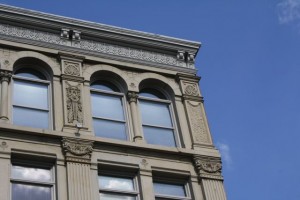 The beautiful architecture and vintage charm continue on inside of Japp's.  Look closely behind the bar and you'll notice that the cases from the old hat and wig business and the same cases that now serve to hold the bar's liquor.  The wood cases, ceiling tiles, lighting and overlays are simply gorgeous.   To think that these elements have survived 130 years in the same spot is mind blowing.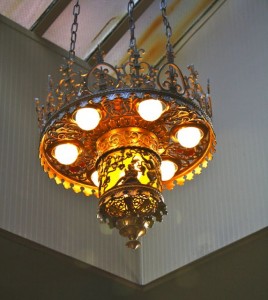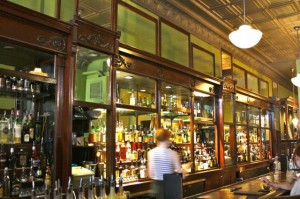 Japp's offers all kinds of craft cocktails, beer, mixed drinks, etc., etc.  They also have a rather large coffee bar in the back.  Seating includes numerous tables and of course you can sit at the bar that spans the length of the room.  Soon they will be opening a patio for outdoor seating as well.